AS with most of the longer distance courses in the South Wales District the profile of the R100/9 course between Monmouth and Abergavenny is like a lumberjack's saw. The event was the WCA 100m Championships organised by Robin Field, WCA Secretary, held on a cold, wet windy day. Riders travelled to the event from all over Wales and the Midlands and south of England to test themselves along these picturesque undulations.
Acme Wheelers were represented at the event by serial triathlete Gary Flower who has been determined to bag a PB on a course he knows well. With the first rider off at 7:07 the GE engineer didn't have to wait long in the poor conditions for his start time of 7:43, certainly the writer and possibly many or the readers were still tucked up in bed.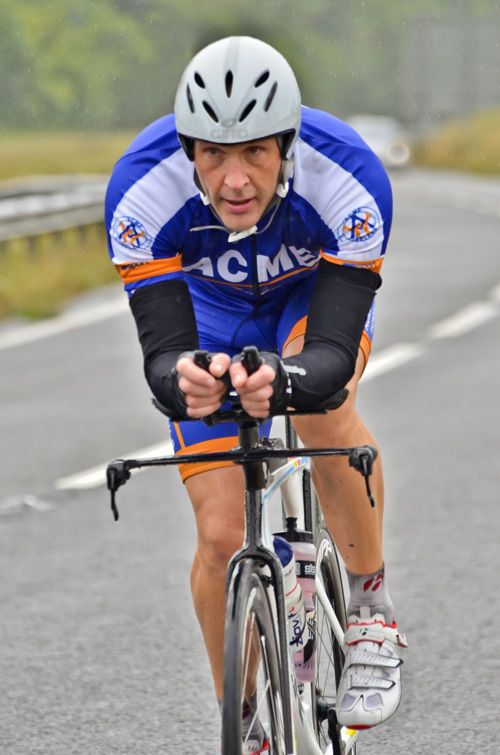 Gary's aim for the day was not only a PB but to break the elusive 4 hours. On the face of it he didn't have much work to do with his triathlon training and season's results going well, his previous best of 4h 07m in 2016 looked under threat. However, the conditions on the day did not give our 2019 50 mile Champion much encouragement. Gary described the conditions as a "proper British summer" and knew anything near 4 hours was going to be tough.
In the windy conditions it was important for the Acme rider to stay down on the aero bars as coming off them too often would create a cumulative effect over such a long distance. While not wanting to go too hard in the first thirty miles or so Gary needed to maintain a pace that he could maintain for his sub-4 hour target. The last 10 miles were "grit your teeth and hang in there" time. Clearly Gary is in a rich vein of form at the moment as not only did he attain a PB but achieved his goal of a sub-4 hour ride. His finishing time of 3h 57m 00s gained him 10th position overall in the WCA Championship event, a more than creditable morning's riding.