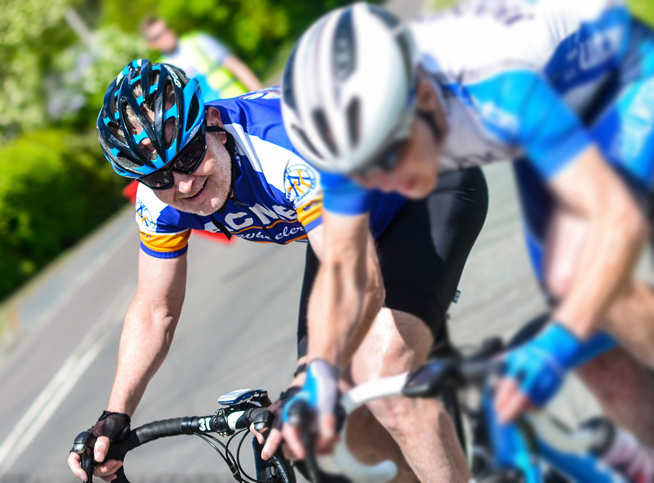 Retired police officer Dean Cummings has recently become a member of TLI Racing a Cycling organisation that caters for age related events. http://www.tlicycling.org.uk/ Five events had been organised in and around the Pershore area. Unable to enter all five, Dean selected the two held on the popular Pinvin circuit, 4 laps and a total of 36 Miles. Being handicapped the race was spilt into three groups on the road, Over 60, Over 40 and any younger in the scratch group. There was a further option, depending on the rider's ability and experience they could choose to ride in whichever group they felt was suitable. The Scratch Group mainly consisted of 2nd ,1st and Pro Circuit Series riders.
Dean selected the middle group which was required to chase the 1st group, which had a 3 min start and they in turn were chased by the Scratch group also with a 3 min gap. The race was fast as riders raced the winding country roads through and off at speeds of over 25mph. The 1st group on the second lap and continued riding at speed to avoid the catch with the Scratch Group .
Dean worked hard in the group and took several turns on the front, working well with fellow riders many of whom he knew from the LVRC events. As a result of the high quality scratch riders the middle group was caught with about just over a mile to the finish. Now with about 65 riders tearing up the country roads Dean maintained a safe position and finished seconds behind the main bunch, very pleased with his racing efforts.
Stats 33 miles 1 hr 19m 34s – Av Speed 24.4 mph Max 34.1mph – Av HR 14 – Av Watts 214 –
Max Watts 716
The second event was held on 24th July on the same circuit. With a Greek holiday in his legs and belly there was no certainty on form for the day. With only a handful of Scratch Group riders the organisers decided that they would start with the usual middle group and chase down the 1st group of high quality older racers with a clear 5 mins start.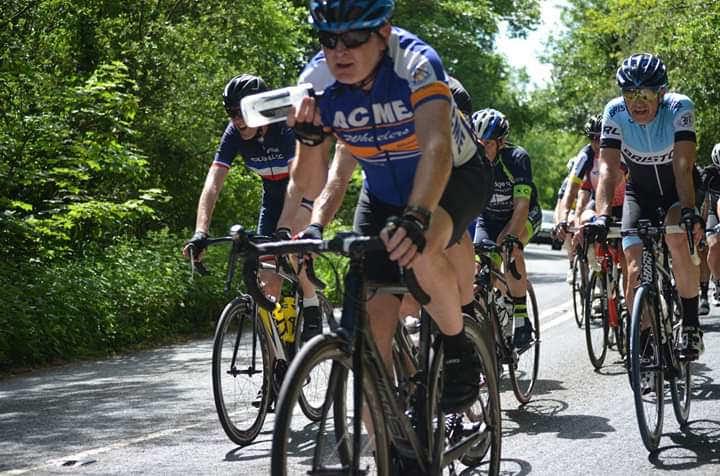 Wow!! A group of approximately 8 class racers of 2nd Cats set the blistering pace, within which Dean was able to maintain a position sitting out of trouble and protected by the body of the peloton. The pace was relentless reaching speeds over 30 mph. Sadly it didn't last as on a straight road two riders from a Shropshire Club decided to have a chat at about 28mph touch handle bars lost control and swayed uncontrollably in front of him before both heading off into the right hand hedge. Breaking hard and almost coming to a stop, riders came flying him past on both sides, desperately trying to get his 53/14 gear going he could see the bunch speed away in the distance. Although Dean gave chase he decided to call it a day at the Start/Finish line. When the group passed this point they were 25 seconds behind the leading group and the catch was made early on the fourth lap. The race was won by a KTM sponsored rider who sprinted away from the bunch and who went on to win the whole series on point
Stats 28miles 1hr 2 mins – Av speed 26.5 mph Max 33mph – Av HR 140, Max 160